Medium-Pres. Variable Displacement Vane Pumps
VDV-1A, 2A / VDV-1B, 2B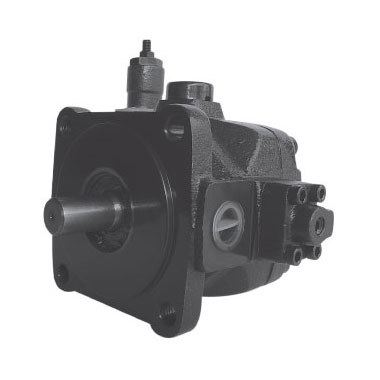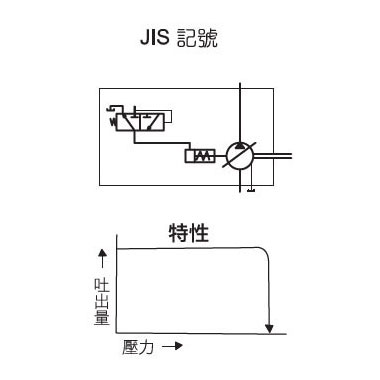 Variable pumps type.

Maximum pressure is 140kgf/cm2.
Displacement range is from 20cc to 86cc (at 1800rpm)
There're 2 adjustable types:
Standard and remote control type.

Best uses in include in industrial machines,
machine tools and mobile hydraulics
systems for vehicles.
Features
High efficiency, high pressure operation.
No vibration and low noise level.
Instant and sharp cut-off characteristics.
Less horsepower loss.
Easy adjustment in handling and maintenance.
Specification
Model Number
No-Load Delivery (1/min)
(1800 r.p.m.)
Adjusting Pressure Range
Kgf/cm²
Running Speed (rpm)
Max. Pressure
Kgf/cm²
Max
Min
VDV-1※-※20※35
20
A: 15 ~ 35 kgf/cm²
B: 20 ~ 70 kgf/cm²
C: 50 ~ 105 kgf/cm²
D: 50 ~ 140 kgf/cm²
1800
800
140
VDV-1※-※25※35
25
VDV-1※-※30※35
30
VDV-1※-※40※35
40
VDV-2※-※54※35
54
VDV-2※-※70※35
70
105
VDV-2※-※86※35
86
70
Nomenclature

Unit Dimensions

Files Download

---
Press Release
MANUFACTURING MYANMAR 2017

Date: 20-22 October 2017 (Friday-Sunday); Location: Yangon, Myanmar.
Myanmar is the last paradise with good investment opportunity in Asia and the next noteworthy country in ASEAN. Expand...

Read More

STEELFAB 2018

Date: 15-18 January 2018 (Monday-Thursday); Location: EXPO CENTRE SHARJAH.
The most prominent annual trade show in Middle East specialized in industrial manufacturing equipments. Get insight...

Read More

WIN EURASIA 2018

Date: 2018/3/15(四)-3/18(日);Location : TUYAP Fair Convention and Congress Center
WIN EURASIA is the most professional, international standard industrial exhibition in Turkey.
It is also...

Read More