Pressure Control and Check Valves
HCG, HCT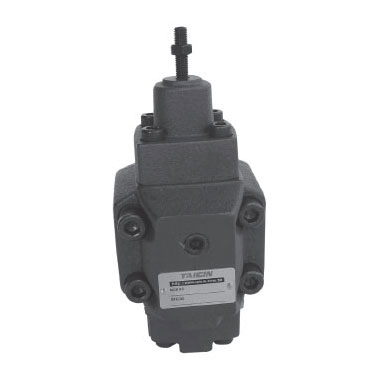 This valve is same as H type pressure control valve
but check valve function added.
When free reverse flow from secondary port to
the primary port is desired, this valve is recommended.
Features
One kind of rectilinear type pressure control valves.
Can be widely used as sequence valves, unloading relief valves or low pressure relief valves according to individual component.
Specification
Model Number
Maxi. Pressure
kgf/cm²
Maxi. Flow
l/min
Pressure Adj. Range
kgf/cm²
HCG (HCT)-03
210
50
A: 18 – 35
B: 35 – 70
C: 70 - 140
HCG (HCT)-06
125
HCG (HCT)-10
250
Nomenclature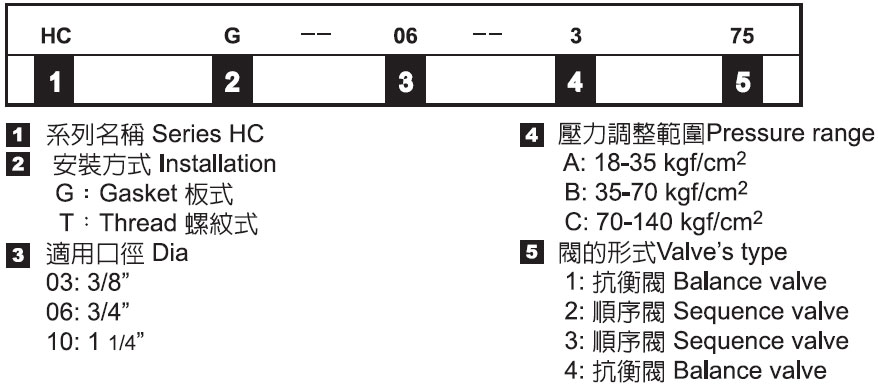 HCG / HCT Valve Type
| Valve's Type | Balance Valve | Sequence Valve with Check Valve | Sequence Valve with Check Valve | Balance Valve |
| --- | --- | --- | --- | --- |
| Working Methods | Internal Pilot: Internal Drain | Internal Pilot: External Drain | External Pilot: External Drain | External Pilot: Internal Drain |
| Diagram | | | | |
| JIS Symbol | | | | |
Unit Dimensions

Mounting Data

Cross Sectional Diagram

Files Download

---
Press Release
MANUFACTURING MYANMAR 2017

Date: 20-22 October 2017 (Friday-Sunday); Location: Yangon, Myanmar.
Myanmar is the last paradise with good investment opportunity in Asia and the next noteworthy country in ASEAN. Expand...

Read More

STEELFAB 2018

Date: 15-18 January 2018 (Monday-Thursday); Location: EXPO CENTRE SHARJAH.
The most prominent annual trade show in Middle East specialized in industrial manufacturing equipments. Get insight...

Read More

WIN EURASIA 2018

Date: 2018/3/15(四)-3/18(日);Location : TUYAP Fair Convention and Congress Center
WIN EURASIA is the most professional, international standard industrial exhibition in Turkey.
It is also...

Read More